United Hearts of Allies
 "Injustice anywhere is a threat to justice everywhere"– Dr. Martin Luther King Jr.
Welcome fellow Allies and Change-makers!
Being an ally means being willing to act with and for others with an aim of ending oppression and creating equality and equity. The United Hearts of Allies project brings together a community committed to learning and practicing allyship. This means standing in solidarity with Black Nations, Indigenous Nations and all People of Colour, the LGBTQI2S community and taking personal, societal and system-level action against racism, homophobia, biphobia, transphobia, ableism, ageism, sexism and all other forms of oppression, hatred and violence including the destruction of the earth.
As a United Heart, we commit to actioning our role in individual and systems change for equity, inclusion and justice for all.
Take the United Hearts pledge.
1. I am open to learning and continually educate myself about different identities and experiences. I am willing to consider the many intersections of my own identity and how my identity influences how I move through the world in ways that might not be possible to others.
2. I challenge my own discomfort, bias, prejudice and complicity
3. I reflect the ways I contribute to oppression, both consciously and unconsciously. I take action to create personal, social and systems change toward inclusion, freedom and justice for all
4. I recognize the strength of my resilience when I collaborate with others in the ways of peace, reconciliation and inclusivity
5. I commit to thoroughly care for myself as I walk the path of allyship
Not sure where to start? Ask yourself:
Can you advocate for someone facing oppression at work?
Can learn to identify discrimination and speak up when you see it happening?
Can you let others take centre stage, even when it involves a sacrifice from you?
Can you purchase from ethical businesses? Business owned by BIPOC, women or LGBTQI2S people? Businesses committed to supporting the earth?
Can you donate to organizations that support regenerative solutions to climate change and the liberation of all people? 
Can you amplify marginalized voices online and in real life?
Can you use your voice to demand justice for Missing and Murdered Indigenous Women, Girls and Two Spirit people? For Black people? For people of colour? Trans people? Women? All those killed or abused because of who they are?
Article: What does it mean to be an ally?
How to support the Ally Project
'Never doubt that a small group of thoughtful, committed citizens can change the world; indeed, it's the only thing that ever has.'
With gratitude to Margaret Mead for this quote which is one of the pillars of The United Hearts of Allies Project.
As will most grassroots movements we are typically supported by small groups of thoughtful, committed citizens and the Ally Project is one that is need of support. To keep our message of commitment to stellar human connections flowing we need support.
We need you out in your communities engaging in thoughtful conversations where we are both interested and caring. We actively present our wisdom to the world, not simply our words but by our actions. We need Allies in every city, town and family. Join us and become the change you wish to see in this life. Let us lift each other up. Let us celebrate each-others success, creativity, diversity, cultures, choices and joys. Let's be happy to see each-other and lets leave a little bit of light behind us every where we go.
On behalf of all of us at the Reach Yoga community, we are reaching out for your support to keep this message moving forward. We are Allies for each-other, for humanity and we are changing the conversation starting today, together we are stronger.
For as long as we can financially support the project we will send buttons out to anyone starting an Ally Movement of change in their own communities and families. No one will be refused a button.
We are people who are willing to wear "The Button" to show they are approachable and offer comfort by remembering that we are one family of humanity.
We are those who engage in open conversations about the goodness in this life and our ability to overcome adversity.
Allies remind us of the strength of our resilience when we collaborate in ways of peace, kindness and care for this life we live together.
Allies wear "The Button" for many reasons. Tell us why you do.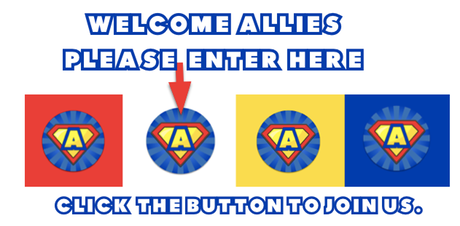 Cathy Mines Founder of the Ally Project the United Hearts of Allies.
'I wear the button because
you matter to me'
Thank you for being part of this Ally Initiative that inspires leaders in communities/families/work places to see them selves as Allies and as a leader/mentor/representative of the strength of the human connection.
Donations are greatly appreciated and needed. Currently we are funding for more Buttons and Story Cards as well as shipping materials.
Our fundraising goal is $900.00 for Winter/Spring 2020.