The Eight Sacred Responsibilities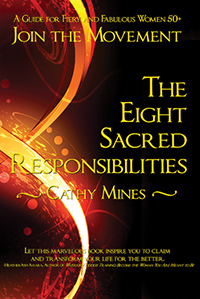 A book by the Director of Wellness at Reach Yoga supports you on the next step closer to taking Sacred Responsibility for your happiness, for your health and for living your life as the passionate, inspired woman you are here to be!
Keeping it real, keeping it simple and lifting each-other up as we rise and shine in this life together!
Join the Movement!
It wouldn't be the same without you…
We have a self paced journey for your self study enjoyment!
The book is broken down into 11 modules that are fun, interesting and deeply touching for Fiery, Fabulous Women 50+ CHECK IT OUT HERE!
About the Author
Cathy Mines, Director of Wellness at Reach Yoga and founder of The United Hearts of Allies project.
Cathy asks us to make a commitment to read this book and join the movement, allowing ourselves to be ignited in our passion to live our most authentic lives. She makes a bold request of her readers to hold her accountable to the Eight Sacred Responsibilities and makes the same request of the reader to be held accountable and take responsibility for their own personal pursuit of a fabulous Third Act.
It is Cathy's mission through her brand 'Reach Yoga Lifestyle' to end unnecessary stress in our lives, by calling us into a lifestyle that thrives on laughter, healthy relationships, creativity, kindness and a desire to live to our full potential. Living Sacred Daily.

Become a Sacred Movement Facilitator. Living Sacred Daily.
NEXT TRAINING DATES 2022: Virtual Retreat Training Friday September 23rd 7:30-9pm & Saturday September 24th 12-8pm. (Exam Friday October 28th  7-10pm) If you have ever considered teaching a movement, meditation and breathing practice to like hearted friends, family and community, then consider becoming a trained Facilitator in the Eight Sacred Responsibilities Protocols. Our 190 page Guidebook is our foundation with 24 foundational exercises that can be combined into a lifetime of creative class programs for all levels. Let me show you how to guide others in these rejuvenating protocols and how to create a successful and safe space for the cultivation of healthy, happy communities. READ MORE!
Hey! Sis is the avenue that Facilitators and readers of the Eight Sacreds direct our care and energy to being Aunties for girls world wide. Specifically in areas where education, health care and safety are lacking and of concern, places where girls face challenges no child should have to face.
The Aunties of Hey! Sis, parter with like hearted organizations to support their work.