Welcome to the Reach Yoga Community, it's a lifestyle!
Sleep better~breathe deeper~laugh more
Classes for all levels in two locations, click on the yoga classes link in the top left for all the info you need! Join our yoga mailing list bottom left, or join the community of Fiery and Fabulous Women 50+ on a sacred journey of self discovery in the box to the right.                                One community, two paths all fun! 
The Eight Sacred Responsibilities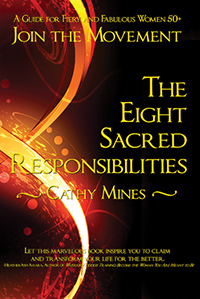 A book by the Director of Wellness at Reach Yoga supports you on the next step closer to taking Sacred Responsibility for your happiness, for your health and for living your life as the passionate, inspired woman you are here to be!
Keeping it real, keeping it simple and lifting each-other up as we rise and shine in this life together!
Join the Movement! It wouldn't be the same without you…
Join our on line community and get instant access to our 38 page Sacred Practices handbook as well as access to all of our Audios of the exercises for you to follow along to!
Cathy Mines Peace Ambassador, Ally, RIHR, CYT, YES
Wellness Director
Cathy is the Founder and Director of Wellness at Reach Yoga, organizing and facilitating Yoga, Meditation, and Corporate Health Programs across the GTA and beyond. She has been a certified Yoga Instructor since 2003. A graduate of the Transformational Arts College Spiritual Psychotherapy Program a Clinical Hypnotherapist, Certified Peace Ambassador and a Delegate at The Resonance Academy. 
For more information, see Reach Yoga or contact me at info@reachyoga.ca